Published: 16 May 2023

16 May 2023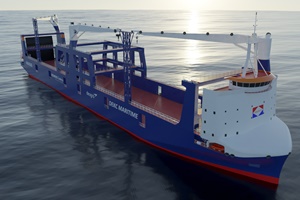 deugro Danmark and its partners Siemens Gamesa and Amasus Offshore will bring two newly designed vessels, customised for transporting offshore wind turbine components, to the market.
Siemens Gamesa and deugro have entered into a long-term charter agreement for these newbuild vessels, Rotra Futura and Rotra Horizon, which will be delivered in 2025. Rotra Futura and Rotra Horizon will measure 167.6 x 26 meters, with the deckhouse and accommodation placed forward to ensure optimal cargo intake without any line-of-sight limitations. The vessels will be fitted with a stern RO/RO ramp, three Liebherr cranes and a gantry system, allowing stowage of blades in three tiers. The two new vessels will be built at Jiangsu Zhenjiang Shipyard in China and are scheduled for delivery in spring and summer of 2025.