Published: 15 June 2023

15 June 2023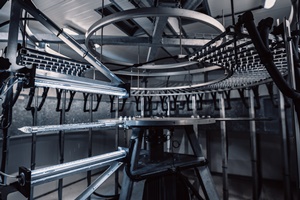 The Technical University of Denmark (DTU) has ordered a rain erosion tester from R&D Test Systems. The Rain Erosion Tester (RET) from R&D Test Systems will enable DTU to further develop methods for testing rain erosion on wind turbine blades.
A RET is a testing machine based on the three-bladed helicopter principle, where a test specimen is rotated at high speed and exposed to raindrops. The RET provides the right set-up for the most realistic test conditions in a controlled environment, where it is possible to simulate different types of rain and test accelerated lifetime for leading edge protection. The RET will be able to emulate rain using the rain field, which consists of up to 1,800 needles. DTU has also chosen to incorporate a heat pump to heat the ventilation air, which, in addition to reducing energy consumption, also provides increased possibilities for controlling the temperature. The new testing machine will be installed at the DTU Risø Campus, where a new purpose-built test facility will be built.