Published: 16 May 2022

16 May 2022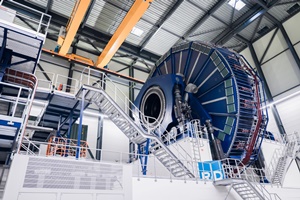 At Lindø Offshore Renewables Center (LORC), a test bench to test the next generation of offshore wind turbines is installed. The test system, called HALT XL, tests the wind turbine's nacelle by simulating extreme wind conditions.
The test bench is developed by the Danish engineering company R&D Test Systems, which in the development also focused on how to minimize the power consumption of the large test system. The test system is powered by 25.000 kW to drive continuously. To limit power consumption, R&D Test Systems used sophisticated power-looping and power-control, which combined minimize the test bench's consumption from 25.000 kW to just a tenth. This is possible because the test bench simulates different wind forces that make the wind turbine rotate - and just like in the open air, the wind turbine generates power when it rotates. This is achieved by electrically closing the power loop, feeding back the power produced by the turbine to the system. In this way, the only power that needs to be added to keep the system running is some energy loss in the process. In addition to the system having an integrated power loop, optimization of the power consumption in the system's auxiliary systems has also been considered. All auxiliary systems, for example, lubrication, fans, water-cooling, hydraulic etc., are made to automatically adjust to only the necessary level to avoid excess consumption.
Related Articles
Together with industry partner FORCE Technology, LORC is setting up a centre to test components and substructures for the offshore wind industry.   In the initial phase, LORC Component & Substructure ...Windtech International - Windtech International is the worldwide information magazine for the wind energy industry. It provides the ideal forum for the promotion and explanation of new products, techniques and applications. This trusted and well-respected source of information is read regularly by an increasing readership