Published: 20 January 2021

20 January 2021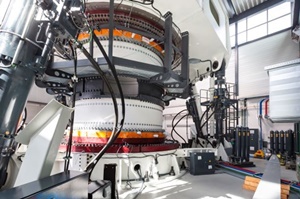 The Fraunhofer Institute for Wind Energy Systems IWES has completed a series of accelerated tests on rotor blade bearings at the bearing test bench in Hamburg, Germany.
During testing, the load is applied to a bearing by means of six hydraulic cylinders on the BEAT6.1 (Bearing Endurance and Acceptance Test) test bench with up to 50 meganewton meters (MNm) of static load. The test bench also simulates the movements of a wind turbine during operation together with the associated load changes. This accelerated test can thus recreate loads equivalent to 20 years of operation in just four to six months. Since its commissioning in May 2019, the Fraunhofer IWES has tested a range of bearing types for a 7.5 MW wind turbine.