Published: 17 August 2018

17 August 2018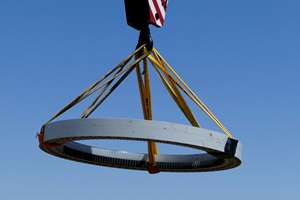 IMO has introduced a specially developed blade bearing retrofit kit. It is based on its T-Solid product family and able to replace failing four-point contact ball blade bearings in 2 to 3MW class turbines.
Since neither the blade nor the hub can be fundamentally reinforced in the field, IMO chose a bearing concept, which simply can better tolerate the existing deformations. In contrast to the four-point contact bearings, the IMO T-Solid blade bearing does not generate any additional radial load during load transfer. The retrofit kit is manufacturer independent and suitable for all wind turbines and blade bearings.