Published: 17 August 2018

17 August 2018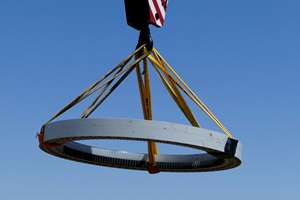 IMO has introduced a specially developed blade bearing retrofit kit. It is based on its T-Solid product family and able to replace failing four-point contact ball blade bearings in 2 to 3MW class turbines.
Since neither the blade nor the hub can be fundamentally reinforced in the field, IMO chose a bearing concept, which simply can better tolerate the existing deformations. In contrast to the four-point contact bearings, the IMO T-Solid blade bearing does not generate any additional radial load during load transfer. The retrofit kit is manufacturer independent and suitable for all wind turbines and blade bearings.
Related Articles
Louisiana-based Keystone Engineering Inc. has announced the opening of its newest office located in Baltimore. This news follows the announcement that the compa

Vestas has received an order for 27 V126-3.45 MW turbines in Finland, comprising a total of 93MW from TuuliWatti Oy for the Simo III project.