Published: 12 March 2019

12 March 2019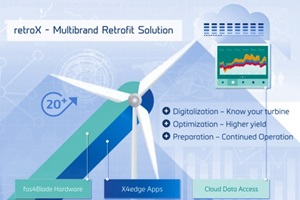 With retroX, fos4X offers a stand-alone retrofit solution for digitising and improving the efficiency of existing wind turbines. retroX is a manufacturer-independent, stand-alone solution that works without direct integration into the turbine control system.
Individual turbines, as well as entire wind farms, can be digitally integrated into a cloud-based IIoT environment. In addition to providing turbine data in the fos4X cloud platform, integration into existing management software is also possible. retroX prepares operators of wind turbines for the upcoming assessment of the extended service life of wind turbines. Through the long-term recording of load data and its extrapolation, a plant-specific load history is created over the entire operating life and can be compared with previous (conservative) load assumptions for the calculation of the remaining service life. retroX will be available for different turbine types from Q2 2019.