Published: 07 October 2019

07 October 2019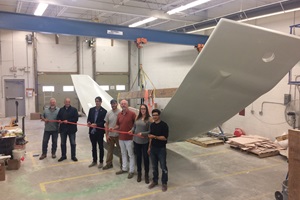 The first ever PowerCone blade was
fabricated
last month and installation of a full scale prototype of the PowerCone is scheduled for Q4 2019. The blade, manufactured by Competition Composites Inc. (CCI) is headed for fatigue load testing at Queen's University' Civil Engineering labs.
Fabrication of blades two and three has been accelerated through the build process through replication. The second blade is nearly complete. The prototype will be installed at Capstone's Skyway8 wind farm northeast of Toronto, in partnership with Carlsun. Independent entities, such as DNV-GL, Power Factors and NREL will be assessing the technology.
The
PowerCone
is a wind turbine retrofit that attaches directly to the hub and co-rotates with the rotor. According to Biome Renewables, developer of the PowerCone, it increases annual energy production by up to 13%. Its biomimetic design passively channels incoming wind onto turbine blades to help them capture more of the wind that's already blowing. By addressing root leakage, it lowers cut-in speeds, increases torque and reduces loads.
Related Articles
Gram & Juhl has announced the launch of the diagnostic & monitoring service TCM Monitoring at the end of 2014.   With this new service, Gram & Juhl will now be offering the full turbine condition moni ...Windtech International - Windtech International is the worldwide information magazine for the wind energy industry. It provides the ideal forum for the promotion and explanation of new products, techniques and applications. This trusted and well-respected source of information is read regularly by an increasing readership