Published: 31 May 2017

31 May 2017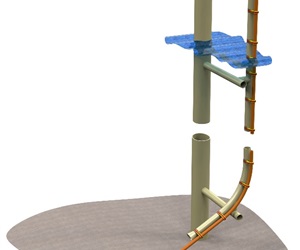 Seaproof Solutions has introduced its Retrofit J-Tube for offshore installation. Retrofit J-Tubes are delivered in multiple sections; assembled using male/female steel built-in connectors; pulled-up with messenger wire; secured at hang-off deck with standard split flanges; then piggybacked to the foundation.
Offshore operations are simple thanks to the light weight, heavy duty Seaproof Composite Polyurethane. Fiber reinforced flexible J-tubes allow large tolerances during installation; Plus permanent protection during lifetime (against abrasion, impacts, stability, fatigue). The Retrofit J-tubes can be adapted to a wide range of foundation types, allowing for a multitude of installation procedures, and bringing extra protection to any subsea cables, umbilicals or flexible pipes.