Published: 14 May 2018

14 May 2018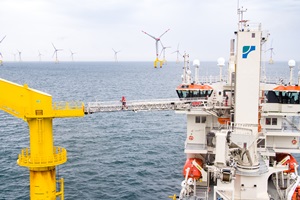 As of May 9, 2018, Ocean Breeze Energy (OBE) deployed a new walk to work support vessel, the "Acta Auriga", for the BARD Offshore 1 wind farm. Acta Marine's vessel is a new concept by Acta Marine and the Norwegian shipyard Ulstein and is designed to meet the requirements of service and logistics for offshore wind farms.
Both the SMST 3D-compensated gangway and 3D-crane as well as the special Ulstein X-BOW and X-STERN hull design allow Acta Auriga to safely transfer cargo and personnel at significant wave heights of up to three metres. In addition, the Acta Auriga features hotel facilities which can accommodate up to 120 persons. OBE has chartered the Acta Auriga from Acta Marine for two years.