Published: 21 March 2018

21 March 2018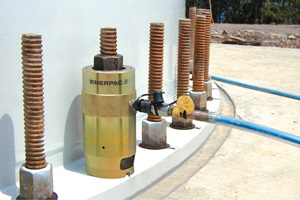 Enerpac has introduced a new portfolio of hydraulic bolt tensioners for offshore wind power fastening applications.
The PGT-Series Double Deck and Single-Stage Bolt Tensioners provide high performance in tight spaces typically found in wind turbines. Key features include auto-retract pistons, over-stroke protection and auto-engage nut rundown. The FTR-Series Foundation Bolt Tensioners are designed specifically for tensioning wind tower foundations bolts.The FTE-Series Elliptical Foundation Bolt Tensioners provide a fastening solution on wind tower foundation applications where limited space between the stud and wall prevent the use of standard tools. They feature an elliptical geometry, which enables fit in narrow access foundation applications without reducing load capabilities.