Published: 23 January 2019

23 January 2019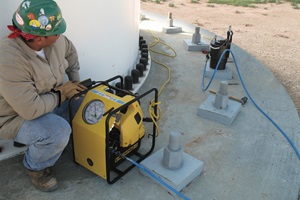 Enerpac announces the ZUTP-S Series electric tensioning pumps for bolting joints in the assembly of wind turbines. The ZUTP-S Series features a two-stage pump design providing high flow at low pressure for fast system fills and controlled flow at high pressure for accurate operation.
An easy access manual override valve quickly releases pressure if power is lost. The ZUTP-S Series 1.7 hp has heavy-duty universal motor and the pump's panel-mounted 6" pressure gauge has a polycarbonate cover set into the protective metal shroud for improved visibility. In addition to the 20 ft. pendant for remote control of valve, the ZUTP-S Series includes a replaceable 10-micron reservoir breather and inline high-pressure filter helps maintain oil cleanliness.
Related Articles
Tentec has announced the appointment of four new agents. All four companies will be responsible for the sale of Tentec's bolt tensioners in industries including renewables and power generation. Ther ...Windtech International - Windtech International is the worldwide information magazine for the wind energy industry. It provides the ideal forum for the promotion and explanation of new products, techniques and applications. This trusted and well-respected source of information is read regularly by an increasing readership

Tentec has announced the availability of Engineering Construction Industry Training Board (ECITB) certified bolt training courses and qualifications for the Wind and Renewables industry.  With the ac ...Windtech International - Windtech International is the worldwide information magazine for the wind energy industry. It provides the ideal forum for the promotion and explanation of new products, techniques and applications. This trusted and well-respected source of information is read regularly by an increasing readership

Enerpac Solutions for Levelling Offshore Wind Turbine FoundationsThe ever-increasing size of offshore wind turbine installations demands innovative and cost-effective foundation construction. Whether ...Windtech International - Windtech International is the worldwide information magazine for the wind energy industry. It provides the ideal forum for the promotion and explanation of new products, techniques and applications. This trusted and well-respected source of information is read regularly by an increasing readership

Following the launch of its Aero WT series of bolt tensioning tools for wind power generation in the Spring of this year, Tentec has announced the expansion of this new range. The expanded range n ...Windtech International - Windtech International is the worldwide information magazine for the wind energy industry. It provides the ideal forum for the promotion and explanation of new products, techniques and applications. This trusted and well-respected source of information is read regularly by an increasing readership