Published: 31 May 2019

31 May 2019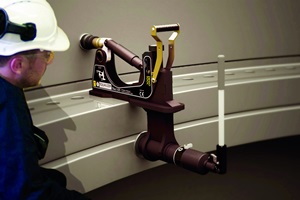 Enerpac has announced the Equalizer portfolio of tools for wind turbine flange assembly and maintenance. The flange alignment tools can be used to resolve bolt-hole rotational or lateral misalignment that can occur within flange joints inside wind turbine tower sections during their assembly or installation. For use on applications with minimum bolt-hole diameters of 25.0 mm – 45 mm, the tools provide a reaction force of up to 27 tons (270 kN).
The Equalizer range of tools also includes flange spreading and pulling tools together with a series of hand pumps. The wedge shaped, flange spreading tools use mechanical and hydraulic actuation for separating flanges and can spread small, medium or large flange joints with a minimum required access gap of 4 mm, with a spreading force of 480 kN when used in pairs.
The Equalizer flange pulling tools have been developed to pull flanges together during installation or maintenance for use on all vertical and horizontal flanges with a minimum bolt-hole diameter of 22.0 mm. With a closing force of up to 200 kN when used in pairs, the tools can pull flanges from a distance of 600.0 mm down to 0.0 mm. All tools are supplied as ready to-use sets.
The Equalizer range of hydraulic hand-pumps have been designed with a sealed oil reservoir, which allows the pumps to be used in any orientation without the risk of oil spills or air contamination. The pumps can be used to operate any Equalizer 690 bar rated hydraulic equipment in most environments including onshore, offshore or subsea. Each pump is available in 350cc, 550cc and 1000cc capacity versions.
Related Articles
Enerpac Solutions for Levelling Offshore Wind Turbine FoundationsThe ever-increasing size of offshore wind turbine installations demands innovative and cost-effective foundation construction. Whether ...Windtech International - Windtech International is the worldwide information magazine for the wind energy industry. It provides the ideal forum for the promotion and explanation of new products, techniques and applications. This trusted and well-respected source of information is read regularly by an increasing readership