Published: 02 May 2018

02 May 2018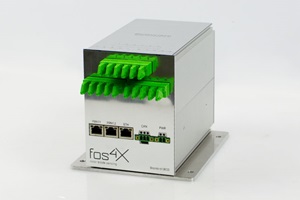 fos4X has introduced its new generation of measuring devices, the Blackbird OECD, for its fos4Blade sensor platform. The Blackbird OECD (opto electronic converter device) is a fiber-optic measuring device, which was developed especially for use in the hub of wind turbines and forms the heart of the fos4Blade sensor platform.
The fos4Blade sensor platform consists of several fiber optic strain sensors and fiber optic vibration sensors per rotor blade, as well as the fiber optic measuring device Blackbird OECD. The sensors are monitored by the measurement device. The fiber-optic measured variables are finally translated by the Blade Physics Library into parameters of the rotor and are provided by fieldbus or IIoT interfaces. Due to the higher computing power of the measuring device, important calculations for the optimisation of wind turbines or wind farms can be calculated directly in the measuring device.