Published: 12 March 2019

12 March 2019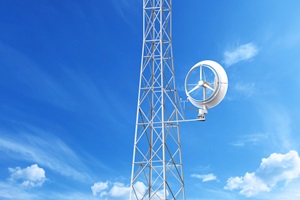 Halo Energy, a micro wind turbine manufacturer, is now in production of its shrouded wind turbines, with their first 10 commercial units scheduled for delivery in Q2 2019. The Halo-6.0 turbine, designed to address the energy requirements of the expanding off-grid telecom tower market worldwide, has a rated capacity of 6 kW.
The first commercial unit will be delivered to an Alaskan telecommunications company, whose network of remote cell towers grows and desires to eliminate dependency on diesel generators. Derived from jet engine technology, Halo Energy's design utilises two closely-coupled, convex shrouds that encircle the turbine blades. The turbine acts as a passive pump, pulling air over the blades. The Halo-6.0 wind turbine with a 3.7-meter diameter is mounted directly to telecommunications towers and contains only two moving parts. The blade pitch is fixed and the turbine passively aligns itself into the prevailing wind. The turbine is designed to integrate seamlessly with solar energy and battery storage solutions.
Related Articles
The Alliance for Rural Electrification (ARE) has launched the Energy Storage Campaign, an initiative which aims to inform decision makers in developing countries and emerging markets on the added valu ...Windtech International - Windtech International is the worldwide information magazine for the wind energy industry. It provides the ideal forum for the promotion and explanation of new products, techniques and applications. This trusted and well-respected source of information is read regularly by an increasing readership

Sirius Integrator has announced the new WindKinetic Polar 50w Wind Turbine Generator and their North American distribution agreement.    The Polar 50w is a 12v or 24v battery charger that is designed ...Windtech International - Windtech International is the worldwide information magazine for the wind energy industry. It provides the ideal forum for the promotion and explanation of new products, techniques and applications. This trusted and well-respected source of information is read regularly by an increasing readership

Mid-Term Findings of an Information Campaign in Developing CountriesSmall and medium wind turbines (SMWT) frequently offer the most environmentally friendly and cost-competitive technology for rural e ...Windtech International - Windtech International is the worldwide information magazine for the wind energy industry. It provides the ideal forum for the promotion and explanation of new products, techniques and applications. This trusted and well-respected source of information is read regularly by an increasing readership

juwi has implemented an off-grid project in Egypt. A combination of wind and solar power generates enough clean electricity for driving several water pumps and a desalination plant. A battery storag ...Windtech International - Windtech International is the worldwide information magazine for the wind energy industry. It provides the ideal forum for the promotion and explanation of new products, techniques and applications. This trusted and well-respected source of information is read regularly by an increasing readership

WES completed the development, field-testing, and optimisation of a new high-penetration hybrid system aimed at off-grid power generation. This modular design WES Hybrid (wind-diesel) system provide ...Windtech International - Windtech International is the worldwide information magazine for the wind energy industry. It provides the ideal forum for the promotion and explanation of new products, techniques and applications. This trusted and well-respected source of information is read regularly by an increasing readership