Published: 11 March 2019

11 March 2019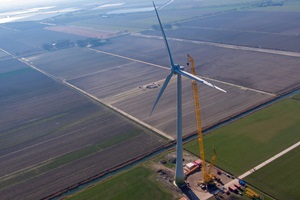 Enercon has installed the prototype of the E-138 EP3 at the Wieringermeer wind energy test site in the Netherlands. The low-wind WEC (IEC wind class IIIA) follows in the footsteps of the E-126 EP3 for wind class IIA sites and is the second WEC type to feature the new compact design.
The new EP3 wind turbines have a compact design optimised in terms of cost and for transport and logistics. The E-138 EP3 has a rotor diameter of 138.6 metres, a nominal power of 3.5MW, and is available in hub heights from 81 to 160 metres. The company is not using the typical egg shaped nacelles anymore for these new turbines.