Published: 15 December 2016

15 December 2016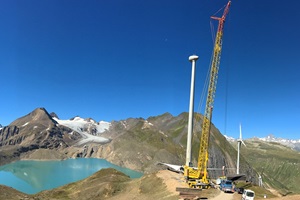 On behalf of Enercon, Switzerland-based Welti-Furrer Pneukran & Spezialtransporte erected three E-92 wind turbines at the Gries Pass, which has an altitude of roughly 2,500 meters. For the lifts, the crane was set up with an outrigger area of 14 x 14 meters and a counterweight of 200 tonnes on the superstructure.
For the boom, the Welti-Furrer specialists chose an SH/LH SGL_S7 configuration with a 90-meter main boom. In addition, they mounted a lightweight, rigid LF-2 jib, which contributed an additional 12 meters to the total height. This resulted in an available boom length of 102 meters – enough to erect the wind turbines' 84-meter-tall tubular steel towers and easily lift all components – with a maximum weight of 64 tonnes – while working at radii between 22 and 25 meters.