Published: 15 December 2016

15 December 2016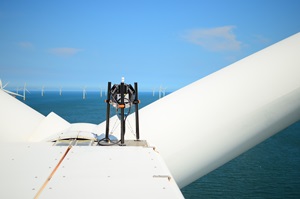 The procedure describes in a practical manner the main steps to using a nacelle-mounted wind lidar to measure a wind turbine power curve, closely following guidelines such as IEC 61400-12-1 CD. The reviewers include experts from Siemens, DONG Energy, DTU Wind Energy, RES (Renewable Energy Systems) and Natural Power.
The main aim of the peer-review process is to provide a uniform methodology within the wind industry for the measurement, analysis, and reporting of power performance characteristics for individual electricity-producing wind turbines utilising a forward-looking nacelle-mounted, circular-scan continuous-wave (CW) lidar device to measure the horizontal wind speed. ZephIR Lidar's turbine lidar team worked closely with the reviewers to produce a clear measurement methodology, including guidance on preparation for the campaign, data analysis strategies and quantification of uncertainty. Practicalities including reporting format for the power curve measurement were also discussed. A key capability described in the reviewed procedure is the ability of a circular-scanning CW lidar, such as ZephIR DM, to measure the wind speed at multiple points across the turbine rotor. IEC guidelines ascribe an uncertainty contribution in the wind speed due to shear effects of 2-4% when only hub-height measurements are available. In contrast, the uncertainty contribution in the wind speed due to shear effects is shown to be only 0.2% in the case presented within the procedure.
Related Articles
The SeaRoc Group has completed a maintenance visit to the two Forewind meteorological masts, installed at the Dogger Bank offshore wind farm site in 2013.

The University of Malta has successfully brought wind lidar technology to the country, with funding from an EU Project. The wind lidar, ZephIR 300, will be util