Published: 16 November 2017

16 November 2017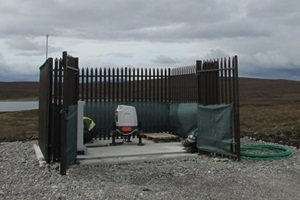 UK utility company SSE has innovated in the area of operational wind farm anemometry at its 32 turbine Bhlaraidh Wind Farm located on the Glenmoriston Estate north-west of Invermoriston in the Great Glen, Scotland by displacing traditional tall meteorological masts with a ground-based ZephIR 300 wind Lidar provided by ZephIR Lidar.
Delivering wind measurements remotely from ground level to 200 metres ZephIR 300 delivers a capability previously not possible on onshore wind farms such as Bhlaraidh. The measurements have been successfully integrated with the on-site Vestas SCADA system conforming to grid obligations and providing in-house Resource Assessment teams with technology to monitor and optimise the operation of the wind farm. Recent changes to industry IEC standards allowing for power curve measurements taken from ZephIR Lidars further adds value to the system's presence on the wind farm. And, with the Lidar based on the ground, all working at height requirements to perform the statutory inspections of the met mast are removed improving the overall safety standards of the site.