Published: 21 November 2017

21 November 2017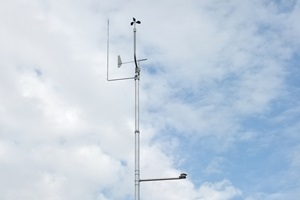 Thies Clima has introduced a new model of its First Class anemometer. By releasing the new version of the international standard IEC61400-12-1 Ed.2.0 2017-3, which describes more sophisticated and dedicated anemometer classification and calibration methodology, an improvement and adaptation of the instruments in respect of the changed requirements became essential.
The First Class Advanced X model, comes also with additional new capabilities. Beyond the expected wind speed measurement, the sensor measures temperature, pressure, vibration and acceleration and provides all readings via the RS485 serial interface. To achieve best accuracy and classification results the wind speed readings can be pressure compensated by use of the internal pressure sensor. In the internal memory of the First Class Advanced X, the calibration results are stored for tracing of the instrument history over its entire lifecycle.
Related Articles
Ecofys has released a statement on the use of wind lidar, specifically ZephIR 300, to reduce uncertainty on wind farm developments. The statement reports that "lidar wind measurements have been exte ...Windtech International - Windtech International is the worldwide information magazine for the wind energy industry. It provides the ideal forum for the promotion and explanation of new products, techniques and applications. This trusted and well-respected source of information is read regularly by an increasing readership

SOH Wind Engineering has completed construction of a wind tunnel specialising in the calibration of anemometers and testing of wind actions (or forces) on large structures. In response to a request ...Windtech International - Windtech International is the worldwide information magazine for the wind energy industry. It provides the ideal forum for the promotion and explanation of new products, techniques and applications. This trusted and well-respected source of information is read regularly by an increasing readership

NRG Systems has introduced a new version of the WindSensor anemometer, the P2546C. Designed for resource assessment, site calibration, and power performance measurement, the WindSensor anemometer of ...Windtech International - Windtech International is the worldwide information magazine for the wind energy industry. It provides the ideal forum for the promotion and explanation of new products, techniques and applications. This trusted and well-respected source of information is read regularly by an increasing readership

The Energy research Centre for the Netherlands (ECN) has completed a 12 month offshore measurement campaign with the ZephIR 300 system as part of a 4 year campaign within the Dutch project "Meteorolog ...Windtech International - Windtech International is the worldwide information magazine for the wind energy industry. It provides the ideal forum for the promotion and explanation of new products, techniques and applications. This trusted and well-respected source of information is read regularly by an increasing readership

Correcting Yaw Errors and Measuring the Improved Power CurvesIt is an all too common sight: turbines in a wind farm pointing in different directions. This means, of course, that some of the turbines w ...Windtech International - Windtech International is the worldwide information magazine for the wind energy industry. It provides the ideal forum for the promotion and explanation of new products, techniques and applications. This trusted and well-respected source of information is read regularly by an increasing readership