Published: 14 June 2016

14 June 2016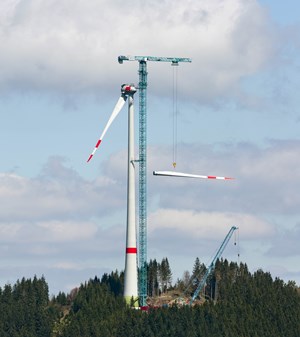 A Liebherr tower crane recently erected a wind turbine at an altitude of around 800 metres in the Prechtaler Schanze Wind Farm in the Black Forest. Enercon's Liebherr 1000 EC-B 125 Litronic tower crane erected a new wind turbine in the Prechtaler Schanze Wind Farm in April 2016. With a hub height of 149 metres and a blade diameter of 115 metres, it is the largest turbine ever to be erected using this crane.
With its 31.50 metres jib and a hook height of 164 metres, the crane was still able to hoist 100 tonnes using four lines. First of all a Liebherr LR 1200 crawler crane assembled the Flat-Top crane to its initial hook height of 39 mtres. From this point the tower crane erected the wind turbine and was able to climb up the turbine tower as it rose using its own climbing equipment. For this job in the southern Black Forest it climbed to a free-standing hook height of 110 metres. It was guyed to the wind turbine at a height of 100 m. Using this single guying, the crane climbed to a final hook height of 164 metres. . The monoblock tower sections with system dimensions of 3.40 m x 3.40 m and a length of 5.80 m allow high free-standing erection heights with short erection times. The erection of the wind turbine took around four weeks.