Published: 22 February 2017

22 February 2017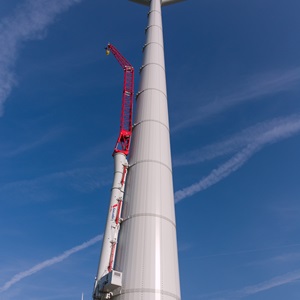 Momentarily all components for the construction of the Lagerwey Climbing Crane are being built by over 30 different suppliers. The mast consists of a top, middle and bottom section. The middle and bottom sections are the parts where the 'cylinders' are attached which 'climb'.
The upper part comprises the masthead on which the boom is mounted and rotates. The boom of the crane consists of three parts. The jib section on the photo is ready to be welded. The other two boom sections will follow quickly. Then the parts will go to the paint sprayer. Mid-March all parts (about 700 pieces) of the Climbing Crane will be delivered at the production facility of Lagerwey in the Netherlands . Lagerwey will build the crane there. Subsequently, all parts will be, hydraulically and in terms of the control system, tested.