Published: 28 October 2016

28 October 2016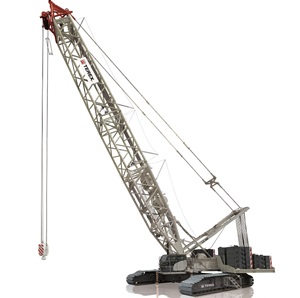 Terex Cranes introduces the new Terex LC 300 lattice boom crawler crane. Offering a 300-ton maximum lift capacity and a 1,810 mt maximum load moment, the new LC 300 crane is the largest crawler crane in this product range. The crane is developed for contractors operating in the heavy civil infrastructure, Petrochemical, power plant and wind turbine industries.
Self-assembly of the LC 300 crane's crawler tracks substantially helps to achieve short rigging time. It can be configured with up to 84 m of main boom or up to 60 m of main boom with a 72 m luffing jib for a total maximum system length of 132 m. Standard assembly remote control increases rigging ease, and is equipped with the Terex fall protection system for safe boom assembly and disassembly. For further reduction of set up time and expense the main boom can be rigged "free in the air" with up to 54 m main boom without assist crane.
Related Articles
With the help of a Terex CC 9800 ENERCON GmbH recently erected three E-126 wind turbines in Naumburg-Stößen (Saxony-Anhalt, Germany). With a rated power of 7.5MW, ENERCON E-126 wind turbines are some ...Windtech International - Windtech International is the worldwide information magazine for the wind energy industry. It provides the ideal forum for the promotion and explanation of new products, techniques and applications. This trusted and well-respected source of information is read regularly by an increasing readership