Published: 09 December 2021

09 December 2021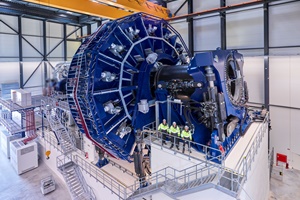 R&D Test Systems has designed and delivered the new Highly Accelerated Lifetime Testing (HALT) test bench for wind turbine nacelles at the Danish test centre Lindø Offshore Renewables Centre (LORC).
The new HALT XL test bench is mounted on a 30-metre-long concrete base and it features a 25MW drive motor that is 15 metres in diameter and the system can deliver a tilt moment of 85 million Nm. The HALT XL test bench at LORC utilises a stepped stress-testing approach that exposes prototype products to diverse accelerated stresses to discover the physical limitations of a design and ascertain product reliability. The prototypes can be exposed to all the stresses and strains they could reasonably be expected to endure during a 20-year lifetime.
Related Articles
Adwen and Fraunhofer IWES have signed an agreement to test the drivetrain for Adwen's next generation turbine of 8MW rated power. Under the terms of the agreeme

Together with industry partner FORCE Technology, LORC is setting up a centre to test components and substructures for the offshore wind industry.   In the initial phase, LORC Component & Substructure ...Windtech International - Windtech International is the worldwide information magazine for the wind energy industry. It provides the ideal forum for the promotion and explanation of new products, techniques and applications. This trusted and well-respected source of information is read regularly by an increasing readership

GE's Power Conversion business has signed a turnkey contract with the Lindoe Offshore Renewables Center (LORC), a Danish center for testing renewable energy technology, for the construction, commissio ...Windtech International - Windtech International is the worldwide information magazine for the wind energy industry. It provides the ideal forum for the promotion and explanation of new products, techniques and applications. This trusted and well-respected source of information is read regularly by an increasing readership

Siemens Energy has opened two Research & Development test facilities for wind turbine technology in Denmark. The new test center in Brande features test stands for components of Siemens wind turbines ...Windtech International - Windtech International is the worldwide information magazine for the wind energy industry. It provides the ideal forum for the promotion and explanation of new products, techniques and applications. This trusted and well-respected source of information is read regularly by an increasing readership

Siemens has delivered high-voltage direct-current (HVDC) technology that allowed Red Eléctrica de España (REE) to link Mallorca with the Spanish mainland via an electricity highway laid in the Mediter ...Windtech International - Windtech International is the worldwide information magazine for the wind energy industry. It provides the ideal forum for the promotion and explanation of new products, techniques and applications. This trusted and well-respected source of information is read regularly by an increasing readership

With the help of a Terex CC 9800 ENERCON GmbH recently erected three E-126 wind turbines in Naumburg-Stößen (Saxony-Anhalt, Germany). With a rated power of 7.5MW, ENERCON E-126 wind turbines are some ...Windtech International - Windtech International is the worldwide information magazine for the wind energy industry. It provides the ideal forum for the promotion and explanation of new products, techniques and applications. This trusted and well-respected source of information is read regularly by an increasing readership

The HVS (High Variable System) connector system from Tyco Electronics is now available with color-coded backshells, with eight standard colors and custom colors additionally available. The color cod ...Windtech International - Windtech International is the worldwide information magazine for the wind energy industry. It provides the ideal forum for the promotion and explanation of new products, techniques and applications. This trusted and well-respected source of information is read regularly by an increasing readership