Published: 21 March 2022

21 March 2022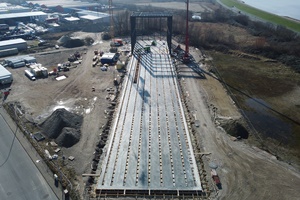 Vestas will be testing the rotor blade of the new V236-15.0 MW prototype at the Fraunhofer Institute for Wind Energy Systems IWES' new rotor blade test bench in Bremerhaven, Germany.
The test bench offers testing possibilities for rotor blades measuring up to more than 120 meters. In addition to biaxial full-scale blade tests, manufacturers also have the option of testing individual segments of a rotor blade. The rotor blade test bench is currently still under construction is being funded by the German Federal Ministry for Economic Affairs and Climate Action (BMWK) to the tune of €14.8 million and has received €4 million in funding from the Ger-man Federal Ministry of Education and Research (BMBF).