Published: 17 May 2023

17 May 2023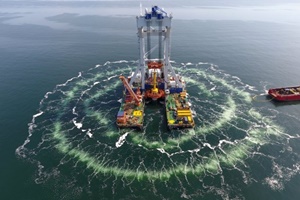 Vineyard Wind has announced a pilot program to deploy and test a secondary bubble curtain during foundation installation through a partnership with ThayerMahan. ThayerMahan specialises in seabed surveys, acoustic mitigation and monitoring, and other maritime related services, and has facilities in Connecticut and Massachusetts, USA.
The $5 million in funding comes from Vineyard Wind's Industry Accelerator Fund, which is administered by the Massachusetts Clean Energy Center (MassCEC).
A bubble curtain, which is comprised of large, perforated hoses and specialized air compressors, is designed to absorb and dampen sound during foundation installation. The hoses are placed on the seafloor around the monopile before being filled by compress air. Once the hoses are inflated, the air escapes through the perforations and creates a barrier of bubbles that reduce noise.

These operations will be conducted from the Northstar Navigator, a vessel that will be operated out of the Port of New Bedford.
As a part of the agreement, ThayerMahan will move its headquarters for their bubble curtain acoustic mitigation product line to New Bedford, sharing part of the Foss Marine Terminal. ThayerMahan, partnered with Hydrotechnik-Luebeck (HTL), has committed to hiring locally for a wide array of positions, from deckhands to data scientists. The firm has already established a training/internship program with UMass Dartmouth, in addition to agreeing to assembly and manufacturing operations for future projects in New Bedford.
Vineyard Wind LLC is an offshore wind development company that is building a commercial-scale offshore wind energy project in the U.S., to be located 15 miles south of Martha's Vineyard. Vineyard Wind 1, based in New Bedford, Massachusetts, is 50 percent owned by funds of Copenhagen Infrastructure Partners (CIP) and 50 percent by Avangrid Renewables, a subsidiary of Avangrid.