Published: 04 August 2022

04 August 2022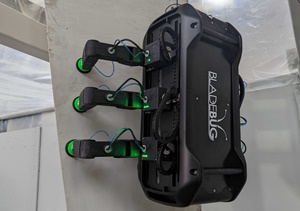 BladeBUG has revealed its new-look concept robot, which for the first time has been covered in an outer shell. The latest BladeBUG robot has a waterproof covering, which protects it from harsh elements when carrying out inspection and maintenance of wind turbines.
A six-legged crawling robot, the BladeBUG robot inspects and repairs turbine blades by walking on them. In development for a year, the latest BladeBUG is undergoing testing including being hung on a real blade, and testing of its body movement and walking gait. The new-look BladeBUG robot has been made possible thanks to Robots for Inspection Network (RIMA), which last year awarded BladeBUG and EGGS Design €150,000 to develop the robot and improve its usability for professional users.