Published: 01 February 2022

01 February 2022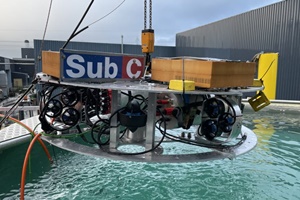 The partners in the innovation project ACOMAR (Auto COm-pact MArine growth Remover) are currently testing a new underwater robot at the company SubC Partner.
The partners work together to remove marine fouling from offshore structures in a more sustainable and economical way. The partners are first testing the robot on land in a tank before it is tested in a real offshore environment. After it has been thrown into the water, the robot must be able to navigate to the structure itself, where it must automatically clean the marine vegetation with a high-pressure cleaner. Besides SubC Partner, participants in the project are Aalborg University, Siemens Gamesa, TotalEnergies, Mati2ilt and Sihm Højtryk. Energy Cluster Denmark facilitates the project. The project is supported by the Energy Technology Development and Demonstration Program (EUDP) with DKK 15 million.