Published: 24 January 2023

24 January 2023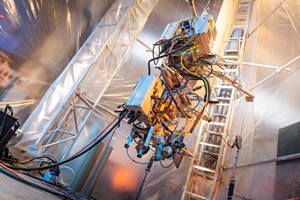 Aerones has demonstrated for the first time its new modular robot that offers full-service leading edge wind turbine blade maintenance and repair. The robot makes use of various attachments to perform different tasks, including refinishing blades with Relest coatings from AkzoNobel.
The robot is able to perform maintenance and repair for Level 1-3 Leading Edge Erosion (LEE) halting progression to Level 4-5 erosion. The robot is able to work in conditions of wind up to 15 km/s.
The modular system ensures that one robot is able to perform multiple tasks – including;
wind turbine blade surface cleaning
surface preparation
leading edge protective tape removal
primer application
leading edge filler application
leading edge protection coating