Published: 08 February 2023

08 February 2023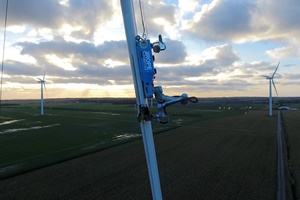 Leading-edge blade damage can compromise the aerodynamic performance of a wind turbine by up to 3%. Following five years of development, and drawing on the experience of a small team of mechanical, electronic, control and materials engineers, in spring 2021 Rope Robotics launched its first leading-edge blade repair robot on the market.
This robot, together with another eight robots, has repaired more than 150 blades in onshore wind farms in the USA, South Africa and Europe, including Scandinavia, Germany and Spain. Offshore testing of the robot is ongoing with commercial launch scheduled for the end of 2023.
The three-phase repair process starts with sanding the damaged area using the 4.6kg sander tool, applying appropriate speed and force. A second tool cleans the surface using a rotating brush together with isopropyl alcohol sprayed to remove dirt and grease. The dosing tool then applies the LEP material while the spreader tool rebuilds the optimal aerodynamic blade shape, smoothing the material to predefined standards. The robot moves vertically up the blade edge. The whole process, conducted at a height of 50 to 100 metres, takes from 5 to 10 hours, including rigging the ropes.