Published: 03 October 2022

03 October 2022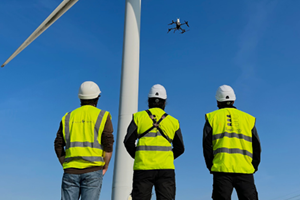 Perceptual Robotics has entered a new inspections partnership with global renewable investments company EuroEnergy. The company has been carrying out wind turbine inspections at EuroEnergy's site in Greece earlier this year using its DOT drone and Dhalion system.
EuroEnergy, which is a subsidiary of Libra Group, has now bought a Perceptual Robotics' Dhalion drone, allowing them to conduct their own drone inspections going forward. Engineers at EuroEnergy have now undergone training with Perceptual Robotics to operate their own Dhalion drone.