Published: 30 August 2023

30 August 2023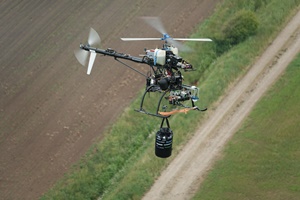 With two successful flights, the partners in the ADD2Wind innovation project have shown the potential of using drones in the wind energy sector. The two flights were a package delivery by drone to an onshore wind turbine and a "BVLOS" flight out of H.C.A. Airport in Odense.
BVLOS stands for Beyond Visual Line Of Sight and indicates that the drone is flying further away than the drone pilot can see.

On the specific flight, there was 3 kg in the delivery cargo bag, but it can hold up to 25 kg and has the potential for more. The cargo bag for the flight was designed by the European Merchandise Group. The cargo bag is padded to protect the cargo from the weather and protect against potential dynamic impact when delivered to the turbine, and it is also aerodynamically optimised to reduce drag, which increases the drone's range.

The project will run from April 2021 to October 2024 and is supported by the Danish Energy Technology Development and Demonstration Programme (EUDP) with DKK 14.5 million. EUDP supports private companies and universities to develop and demonstrate new energy technologies. The partners in the project are Ørsted, Vattenfall, Siemens Gamesa, Vestas Wind Systems, Loxar, EMG (European Merchandise Group), Aeroscout, Aalborg University, and Energy Cluster Denmark.