Published: 13 April 2022

13 April 2022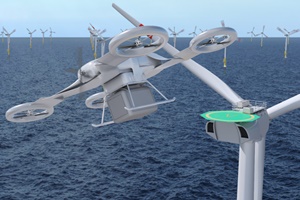 Research project by EnBW and DLR explores use of logistics and passenger drones to service offshore wind farms: flying people and material out to sea.
Modern working practices are safe and well-rehearsed but time-consuming, and it is costly to accommodate service technicians at sea. Using cargo drones to transport tools and materials directly to the top of a 100-meter wind turbine would eliminate the need for cranes. If service technicians were to travel by air taxis, as passenger drones are called, there would be no need for transfers to the turbines and two-week shifts with overnight stays at sea. Among the issues to be clarified are how offshore wind farms need to be equipped to enable the use of drones, what a drone landing platform could look like, how a transport container needs to be designed. The research project funded by the German Federal Ministry for Economic Affairs and Climate Protection also aims to explore the legal framework for operating transport drones at offshore wind farms. The goal is to identify the conditions and necessary steps for implementing cargo and passenger drone transport operations. DLR (German Aerospace Center) sets out the framework conditions for drone operation in the wind farm environment and makes its findings on unmanned aerial vehicles available. The scientists are conducting experiments with a DLR drone in a wind farm on land. In parallel, operation in the offshore area is being developed as a model and closely examined in simulations.