Published: 06 April 2023

06 April 2023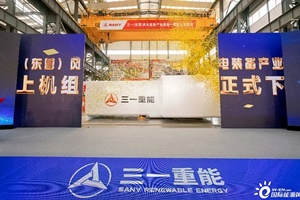 During a ceremony at its facilities in Shandong, China, Sany Renewable Energy showcased its 9MW model with a 230-metre rotor diameter.
The offshore wind turbine is intended for low and medium wind speeds, with yearly average wind speeds of approximately 7.5m/s. The nacelle has a doubly-fed generator, anti-corrosion, and dehumidification systems to increase durability and lifespan in tougher sea conditions. The business intends to place the turbine in waters 20 metres deep north of the Yangtze River in northern China.