Published: 05 April 2023

05 April 2023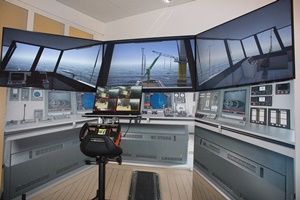 Eagle-Access (EA) has launched its Eagle-Access Academy for on-site simulator training and demonstrations. Crane operators can now be trained onshore on a simulator on how to perform their EA work at sea in the best and safest possible way in all circumstances.
The simulator is located at Eagle-Access's headquarters in IJmuiden, the Netherlands. Both the simulator and the Eagle system use the same software, and with these digital twins, operators can practise on and test in a virtual world.
For those who are interested, the simulator can also be used to demonstrate the actual access system.
The Eagle-Access system is a single, fully balanced, and electrically driven offshore transfer system to lift technicians and goods weighing up to 1,000 kg at sea from a vessel on DP to wind turbines or fixed oil and gas platforms. The stair-free system without gangways has no diesel-driven engine but uses board power supply; there are no hydraulic elements involved, and it can be placed everywhere on the deck of a vessel.