Published: 04 April 2023

04 April 2023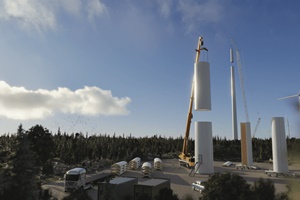 Modvion and RWE Renewables Sweden are entering a partnership to supply wooden towers to RWE's future onshore wind farms.
The goal with the partnership is to verify the wooden tower technology and prepare for RWE to equip future wind farms with wooden towers, once the towers are available in the market. The wind industry wants taller turbines and Modvion's wind turbine tower provides a solution for that. Laminated wood is stronger than steel proportionate to its weight, which means lighter towers and less need for expensive reinforcements. The towers are built in modules that can be easily transported.