Published: 01 August 2022

01 August 2022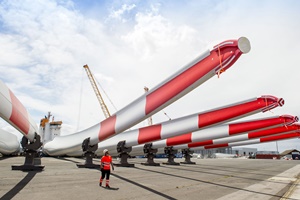 Siemens Gamesa has announced the first commercial installation of its recyclable wind turbine technology at RWE's Kaskasi offshore wind power project in Germany.
Utilising Siemens Gamesa's RecyclableBlade technology enables full reclaim of the blade's components at the end of the product's lifespan. Separating the resin, fiberglass, and wood, among others, is achieved through using a mild acid solution. The materials can then go into the circular economy, creating new products like suitcases or flat-screen casings
A number of turbines at RWE's Kaskasi offshore wind farm will be equipped with handcrafted Siemens Gamesa B81 RecyclableBlades, each with a length of 81 meters. The project is located 35 km north of the island of Heligoland in the German North Sea. It will be comprised of 38 SG 8.0-167 DD wind turbines, generating 342MW of energy.
The RecyclableBlade technology is also available for the 108-meter long B108 blades used on the SG 14-222 DD offshore wind turbine and the 115-meter long B115 blades SG 14-222 DD turbines.