Published: 14 February 2023

14 February 2023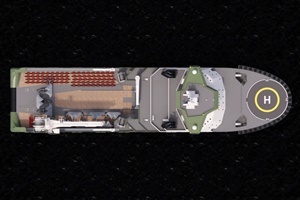 Damen has developed the Floating Offshore Wind Support Vessel (FLOW-SV) concept. The Damen FLOW-SV is specially designed to install ground tackles for offshore turbine floaters.
The vessel can load the lengths of chain needed to install and secure 9 anchors or suction piles. The vessel measures approximately 150 metres in length and has a 32-metre beam. When Damen engineers defined the amounts of gear that the FLOW-SV needs to take onboard to be able to install three floaters in a base case of 100 metres water depth, their calculations added up to five kilometres of chain (chain links of 152 mm diameter) 4.5 kilometres of fibre rope of 112 mm diameter, 9 anchors each weighing 15 tons and almost 100 clump weights of 10 tons each, D-shackles, tensioners, as well as steel cable.