Published: 14 March 2023

14 March 2023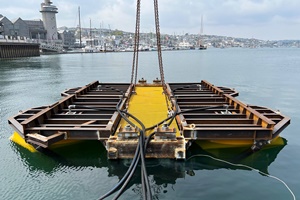 Tugdock, a start-up company based in Cornwall, has been selected to join the 2023 cohort of the National Launch Academy programme, run by the Offshore Renewable Energy (ORE) Catapult.
Over the next nine months, Equinor is supporting the 2023 cohort of the Launch Academy, with a focus on developing solutions to challenges facing the emerging floating offshore wind industry in the Celtic Sea. Tugdock has been selected to work with Equinor on the Launch Academy programme, as their marine buoyancy bag technology meets an infrastructure challenge for the floating offshore wind industry.
Very few of the world's ports have sufficient water depth and assembly quay space to build the turbine floaters required, whilst conventional dry docks are not wide enough as they were originally designed for ships. Tugdock's marine buoyancy bag technology is a solution. It allows floating dry docks to be delivered by road in modular form and assembled at the port to dimensions far wider than most of the world's existing dry docks.
Launch Academy is ORE Catapult's national flagship technology accelerator programme, designed to enhance the UK's offshore wind supply chain and support cost reduction by advancing innovative solutions to real industry problems.