Published: 21 March 2023

21 March 2023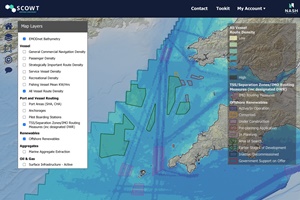 Nash Maritime has announced the launch of its online shipping constraints tool, SCOWT. Users of SCOWT can characterise shipping and navigation constraints within a given area, understand how navigation may be impacted and how existing sea use impinges on their project ambitions.
To help developers understand exactly what is driving constraint, a downloadable report is available that gives granular detail on the shipping constraints in a chosen area and un-packs them, factor-by-factor. Site boundaries can be modified and directly compared, enabling developers to test scenarios without the need for specialist navigation knowledge or GIS skills. Sitting behind the tool is Nash Maritime's risk engine, a set of algorithms that score, weight and combine all the relevant data to provide an overall shipping constraint score. The platform was created with grant funding from the Offshore Wind Growth Partnership.