Published: 06 November 2020

06 November 2020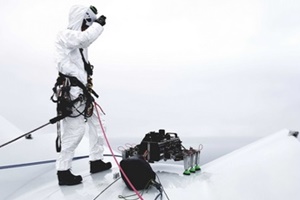 Over two days in mid-October, a six-legged inspect-and-repair robot repeatedly scaled blades at ORE Catapult's 7MW Levenmouth Demonstration turbine off the coast of Fife, UK.
The robot is being developed under a £1 million collaboration project between BladeBUG and ORE Catapult, part funded by Innovate UK. By the project's end next year, BladeBUG will be capable of inspecting blade surfaces for emergent cracks and imperfections, transmitting data on their condition back to shore and resurfacing the blades.
BladeBUG had previously demonstrated its abilities on blade sections and the vertical training tower at ORE Catapult's National Renewable Energy Centre in Blyth. The blade walk at an operational offshore wind turbine has now proven that the robot can conduct lengthy deployments in real-world conditions. During the demonstration, the robot walked 50 metres on a vertically positioned blade (with a total length of 84 metres) on the Levenmouth turbine. The capabilities demonstrated during the trial were:
Adherence of its vacuum-padded feet to blade surfaces in offshore conditions
Ability to navigate the varying curvature of blade surfaces in a variety of scenarios
Transmission of data from blade scans and live video feed to technicians demonstrating the BladeBUG's navigational abilities and placement of feet on changing surfaces