Published: 06 September 2019

06 September 2019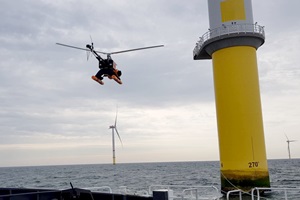 Aero Enterprise has for the first inspected offshore wind turbines with their self-developed helicopter drone Aero-SensorCopter. The inspection took place at the North Sea 70 kilometers (43 miles) off the German/Dutch coastline.
After the inspection flights, Artificial Intelligence supports the evaluation and analysis of the image data within the Aero-Software Package and the client receives an automatically generated report. This can be uploaded to the customers ERP-system or is available for download on the Aero Enterprise server.
The Aero-SensorCopter is protected against salt water, has an operation endurance of more than 30 minutes and is able to fly in wind speeds up to 14 meters per second (27 kts or 50km/h) close to the inspected object. The Aero-SensorCopter operates fully autonomous along the rotor-blades. So far, the drone operated only onshore.