Published: 02 September 2020

02 September 2020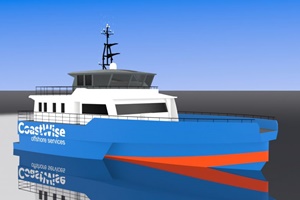 Coastwise Offshore Services and Next Generation Shipyards have signed a contract to build a new type of offshore wind service vessel. A contract for building of a new, energy-efficient and fuel-saving aluminium vessel for the offshore wind-industry was signed, together with an option for three other vessels.
The contract involves a special new type of vessel which combines the stability of a catamaran with the speed and fuel efficiency of a monohull. The vessel will be delivered to Coastwise in December 2021 and sail under the name of COS Master. The aluminium vessel is over 27 metres long, provides room for 30 passengers and can carry a load of 15 to 22 tons. It will be fitted with a deck crane. Its cruising speed is 27 knots. Once the vessels have been completed, Coastwise Offshore Services will outsource the commercial management of the Monomaran Crewtender to SeaZip Offshore Service in Harlingen, the Netherlands.