Published: 02 September 2021

02 September 2021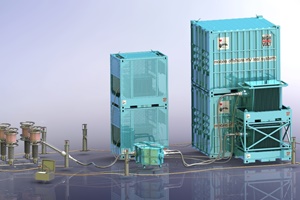 Highvolt Prüftechnik Dresden and JDR Cable Systems, part of the TFKable Group, have announced the adoption by JDR of a Resonant Test System (RTS) to support its offshore wind farm commissioning projects.
The test system is designed and manufactured in Dresden, Germany, by Highvolt. It is purpose built for post installation testing of 66 kV offshore inter array cables (IAC) according to the international standard IEC 63026. The new test system will be DNV certified and smaller in scale compared to the land based equivalent. Its modular design facilitates the testing of different lengths and types of cable. The system is due to be used on a UK based offshore wind farm project mid-late 2021.