Published: 27 July 2022

27 July 2022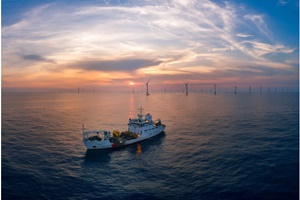 On July 1st, 2022, Typhoon Chaba passed through a prospective site for offshore wind farm development in the South China Sea. The site was in the midst of a wind measurement campaign using a Blue Aspirations Floating Lidar System (FLS) which included a ZX 300M Lidar.
Typhoon Chaba originated in the south and headed northwest for several days before finally making landfall in Guangdong province. Chaba brought maximum sustained wind speeds of approximately 140 km/hr, maximum wind gusts of 170 km/hr and maximum wave heights of 10.67m. Despite these extreme conditions, the Blue Aspirations FLS and its onboard ZX 300M Lidar continued operating effectively—achieving data availability for all measurement heights at 100%, marking the third occasion in which this FLS has continued to function without issue despite typhoon conditions. Blue Aspirations and ZX Lidars designed their technologies to thrive even in the most extreme conditions. Redundancy is at the core of Blue Aspirations' FLS design, integrating backups for all main components, fuel cells to supplement power from solar panels and wind turbines, and a dual-Lidar setup in its standard configuration. For added resilience, its hull also incorporates a large counterweight and residual buoyancy that mitigates the risk of capsizing or sinking.