Published: 23 August 2021

23 August 2021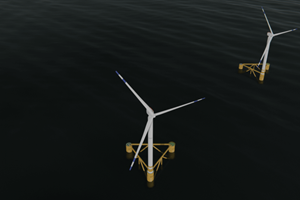 Odfjell Oceanwind has been awarded a pre-project grant from Enova, Norway's fund for climate- and energy technologies, for maturing its first commercial Mobile Offshore Wind Units (MOWUs) and WindGrid for electrification of oil and gas installations.
The grant is awarded under Enova's full scale innovative energy- and climate technology program and a potential funding of a main project will be used to part finance the building of Odfjell Oceanwind's first Mobile Offshore Wind Units and for integrating these to oil and gas installations on the Norwegian continental shelf. The MOWUs are based on Siemens Gamesa's 11MW offshore wind turbine and Odfjell Oceanwind's WindGrid hybrid system for integrating the MOWUs into the host platforms power system. The grant is NOK 10 million and will fund part of the engineering and planning activities in second half of 2021 providing a foundation for an investment decision. The main project aims at connecting the first MOWUs to oil and gas installations in 2024.