Published: 23 August 2021

23 August 2021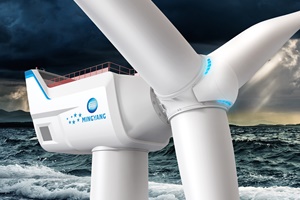 MingYang Smart Energy has launched its MySE 16.0-242, an offshore hybrid drive wind turbine. Designed for high-wind IEC IB including typhoon-class IEC TC, the MySE 16.0-242 features a nameplate capacity of 16MW, a 242-meter diameter rotor, 118-meter long blades, and a swept area of 46000m2.
All power electronics and MV-transformer have been relocated up tower into the nacelle and an air-tight design protects the nacelle from harsh salt spray corrosion. The MySE 16.0-242, which was recently certified by DNV and China General Certification Center(CGC) for design, is scheduled for full prototype rollout in 2022, to be followed by prototype installation in the first half of 2023 and commercial production in the first half of 2024.