Published: 14 July 2021

14 July 2021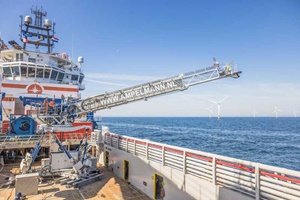 Ampelmann has announced the launch of an electric version of its A-type system. The new version of the A-type has seen its traditional hydraulic power train replaced by electric regenerative actuation.
The electric A-type is smaller and lighter, requiring fewer resources to operate compared to its hydraulic-powered counterpart. Weight is reduced by 40% and energy use by 80%. The electric A-type is now fully operational after undergoing extensive offshore trials on the Horizon Star vessel in Eneco's Princess Amalia wind farm.