Published: 21 June 2022

21 June 2022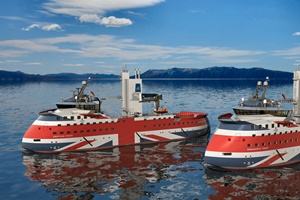 James Fisher and Sons (James Fisher) and Graig Shipping (Graig) have unveiled their service operation vessel (SOV) design concept; the Ulstein Twin X-Stern named Ulstein SX221 Diamond SOV.
The concept is the result of the collaboration by the Diamond Consortium, a collaboration between James Fisher and Graig with support from DNV and design partner, Ulstein Design Solutions. The philosophy behind the Diamond SOV was to develop a specification that meets a market need while allowing for a high degree of customisation and configuration for individual owners and developers.