Published: 01 May 2023

01 May 2023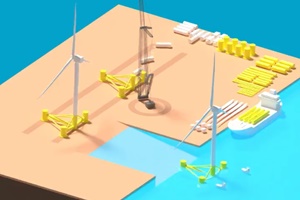 Stiesdal Offshore has introduced the Triple-One Concept, facilitating the installation of one gigawatt of floating offshore wind from one port in one season. The goal is to eliminate installation processes as a potential bottleneck in floating wind.
Traditionally, the assembly and launch of floating foundations and turbine installation were two separate processes, with several factors limiting the installation windows, including foundation movements due to tidal effects and swell. To fast-track gigawatt-scale floating wind projects, Stiesdal Offshore has developed the Triple-One Concept, which leverages the company's fast assembly processes. This approach streamlines the assembly and installation of floating foundations and turbines into one seamless process. Fully assembled turbines can be pre-commissioned onshore, launched using a slipway, and towed directly to the site, simplifying the port side process.