Published: 21 June 2022

21 June 2022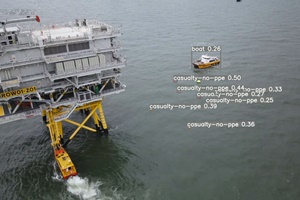 Edinburgh-based Zelim has created an offshore autonomous casualty detection and tracking system, alongside technology that rescues people who have fallen overboard. The company's real time AI-based casualty detection system – SARBox – detects and tracks multiple people in the water in all weather conditions. Once discovered, Zelim's Swift Rescue Conveyor recovers casualties in record time.
SARBox was recently demonstrated for the first time at Project SANCHO, a live international exercise at Orsted's Race Bank offshore wind farm. It successfully identified and tracked multiple casualties during the exercise that included the Maritime Coastguard Agency, US Coast Guard, the RNLI, police and offshore wind farm operators. The Swift Rescue Conveyor also recently completed 'rough weather trials' where it tackled wind speeds of 46mph and 3m waves – recovering casualties from the water 30 seconds from first point of contact. The development of SARBox and Swift has been supported by the Offshore Renewable Energy (ORE) Catapult and the Offshore Wind Growth Partnership (OWGP).